New Tattoos
With so many tattoo shops in Las Vegas, it's hard to know which tattoo artist will be the best for your next tattoo. Here at Bluenote Tattoo we focus on custom tattoos, and we design each tattoo for the client. In my experience as a tattoo artist, I enjoy doing many different styles of tattoos. Each tattoo is original, one of a kind custom design for each client. If you are looking for the best tattoo experience possible by one of the best tattoo artists in Las Vegas, please take a look through my tattoo portfolio. If you have any questions about a tattoo, or would like to set up an appointment for a tattoo, you can contact me by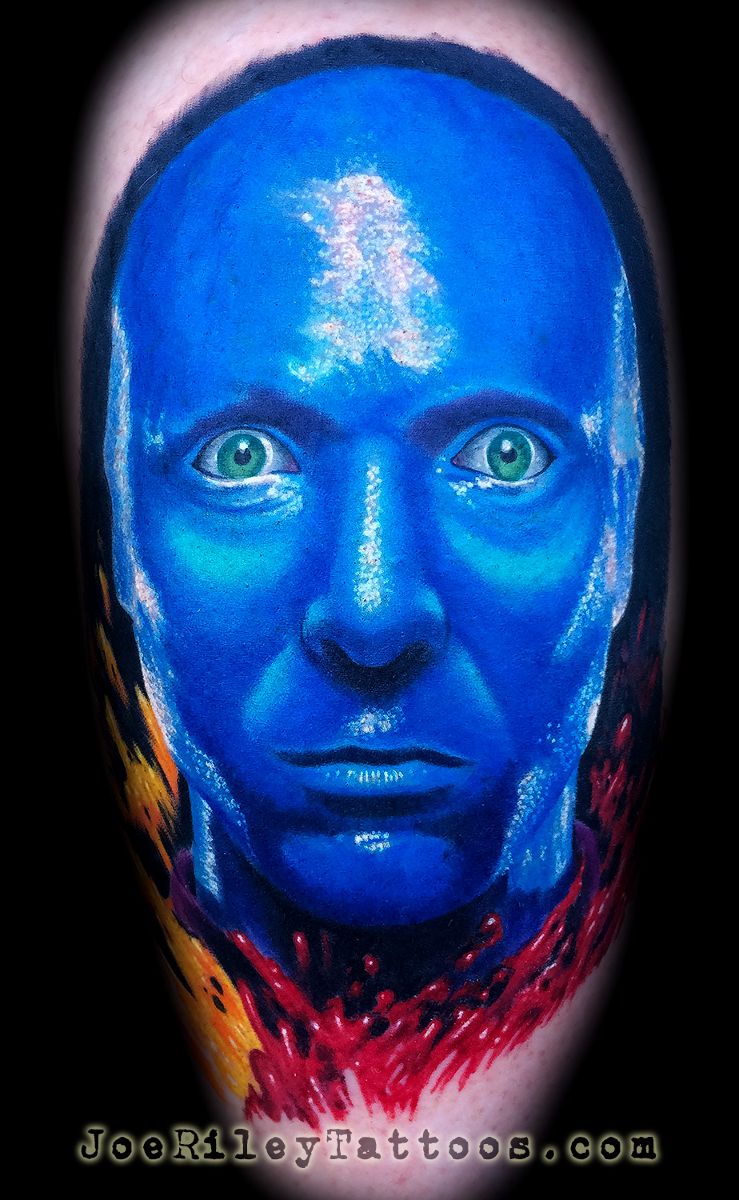 !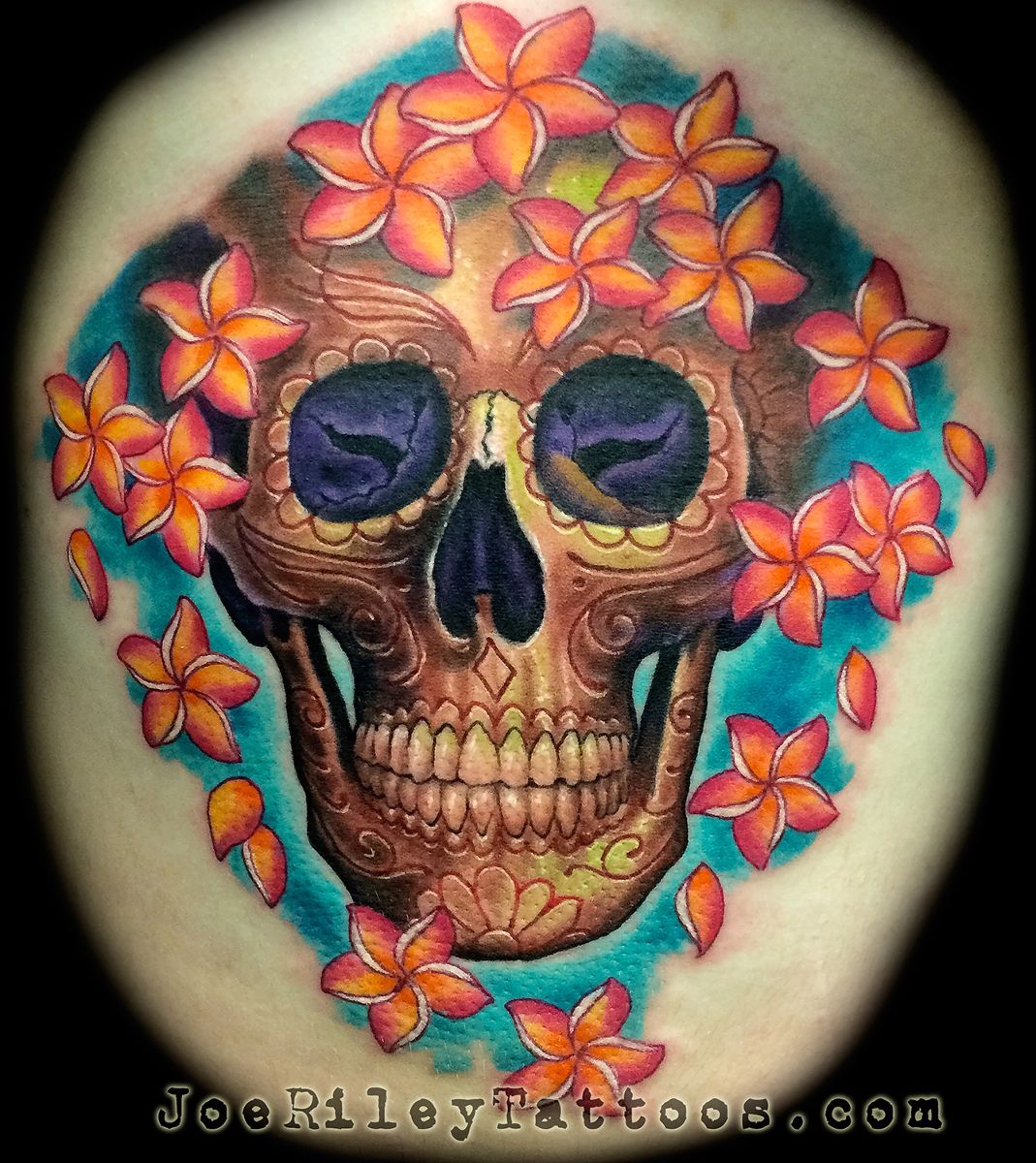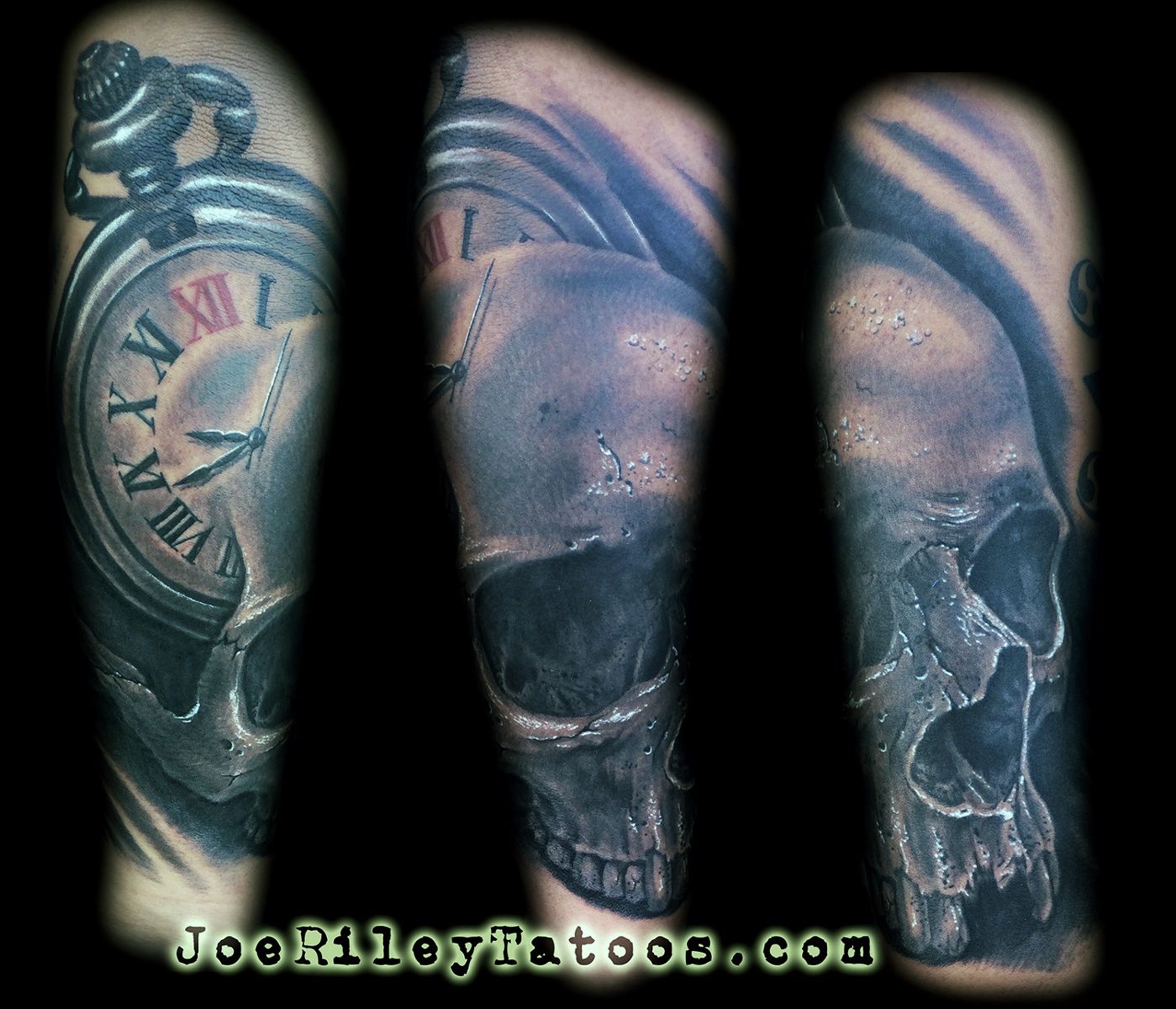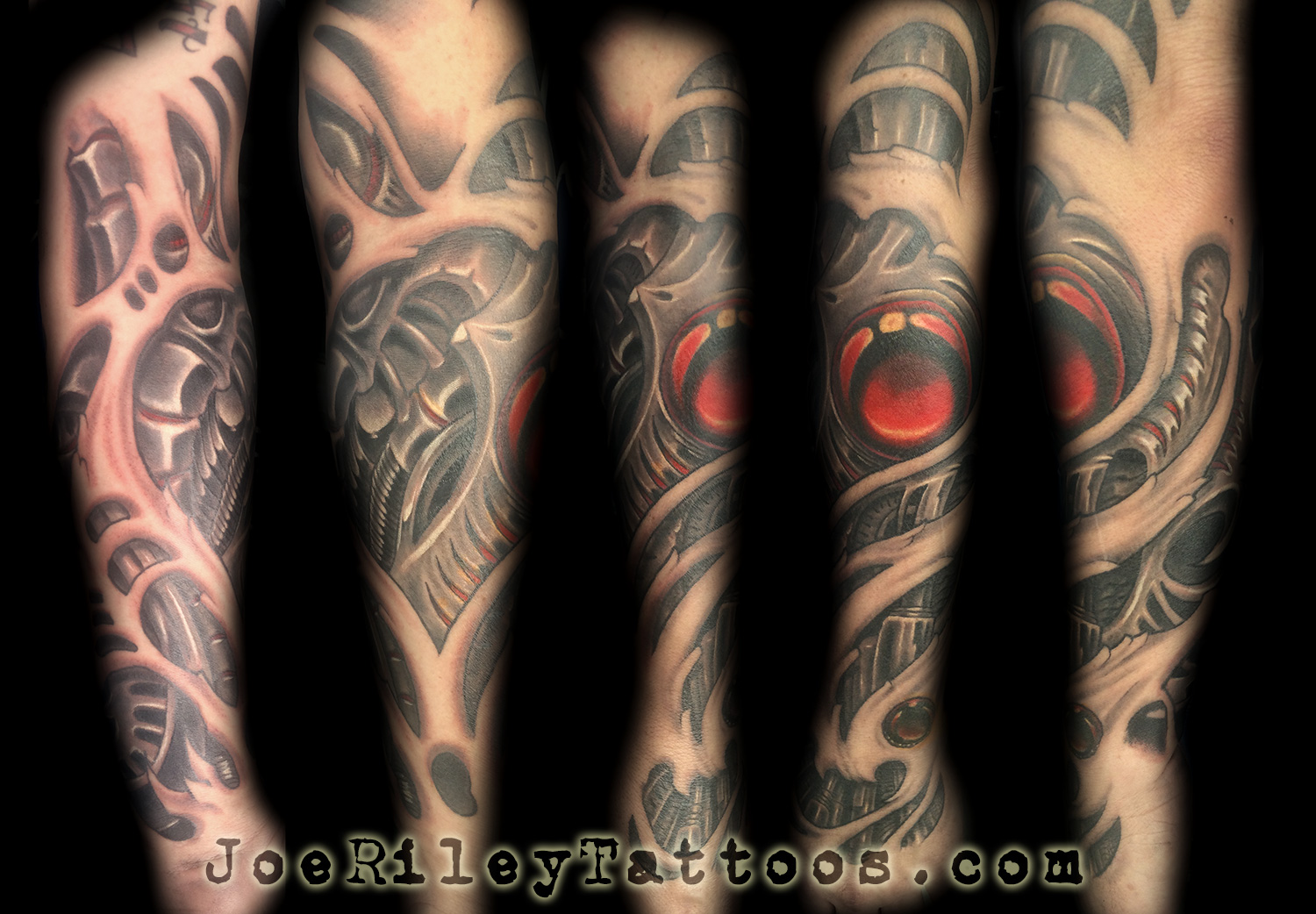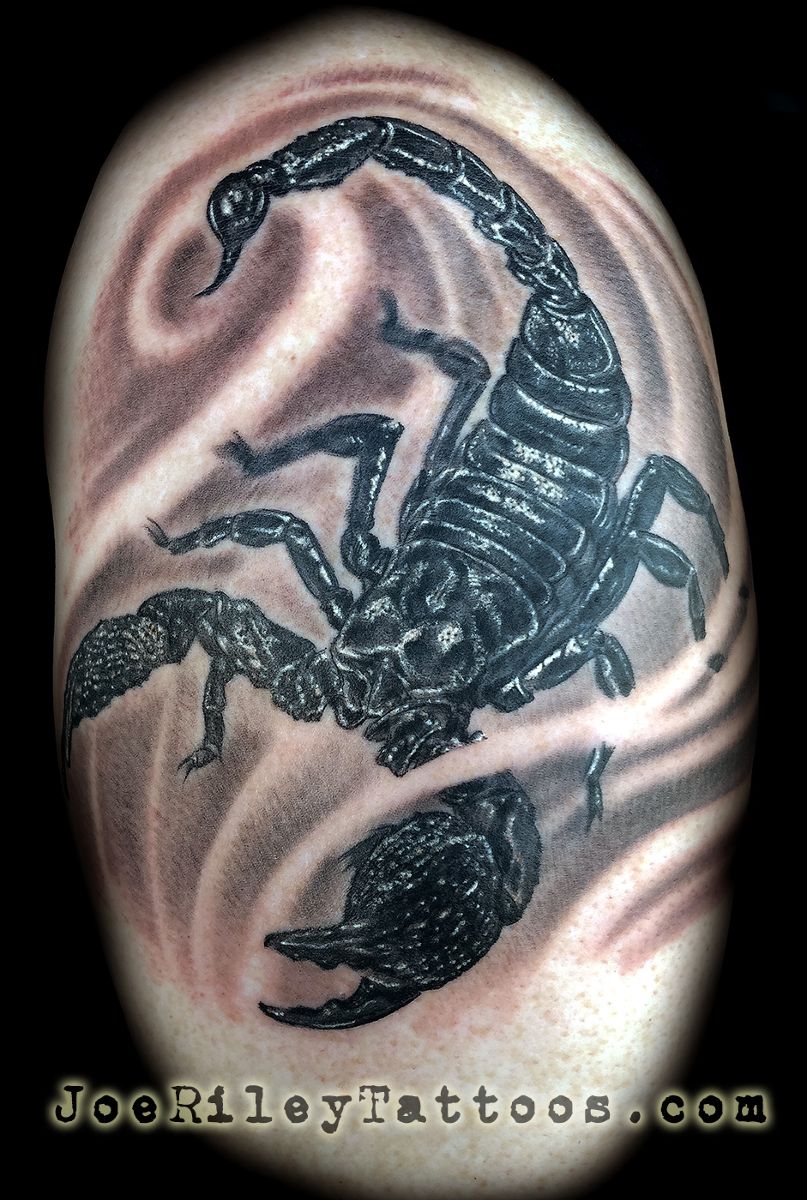 Finally!
Hello Las Vegas! I've finally updated my website with tons of my custom tattoos. I haven't gotten around to adding any new tattoos from the past couple of months, but now that I have my previous tattoos up, the new tattoo pics are coming next!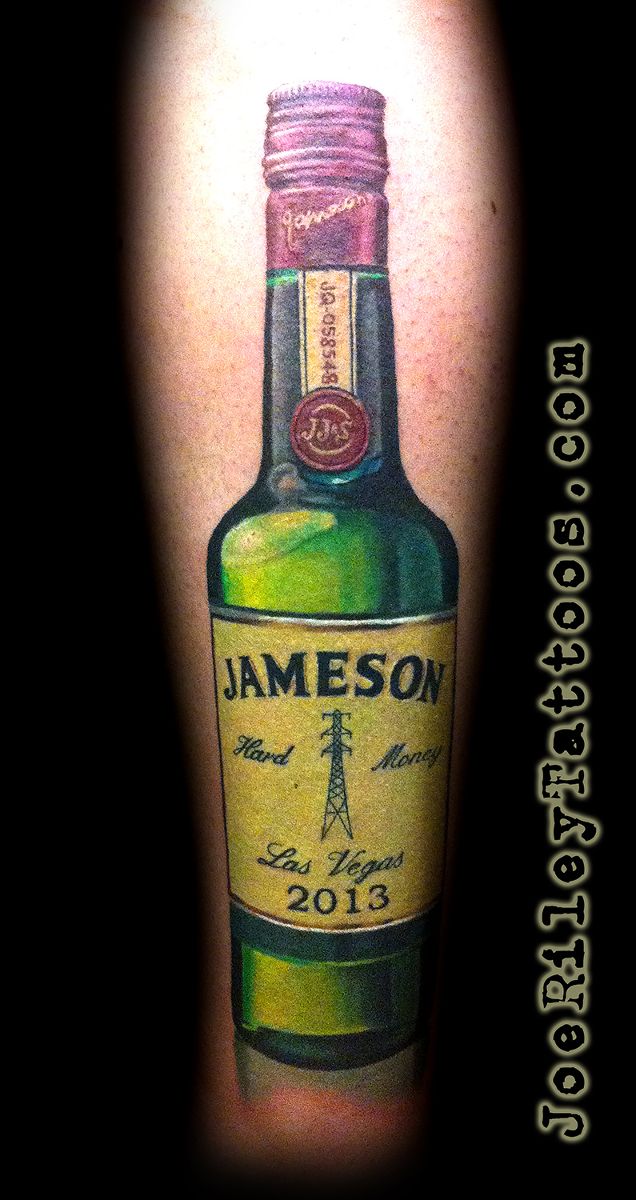 Update on Bluenote Tattoo

Hi everyone, and thank you for taking the time to read this. It's been about four months now since I left Club Tattoo on the Las Vegas strip and made the decision to relocate to Bluenote Tattoo. At the time, I was considering several different tattoo shops in Las Vegas, and after careful deliberation, I decided that Bluenote Tattoo was the best fit for me here in Las Vegas.
It's been four great months at Bluenote Tattoo so far, and as I suspected, moving to Bluenote Tattoo has been the best decision for my tattoo career. Bluenote Tattoo is owned and operated by one of the best tattoo artists in Las Vegas, Krystof, and his wife Lesley. They definitely put a lot of thought into building Bluenote Tattoo and creating the best atmosphere for the tattoo artists as well as the tattoo clients. They are a great couple and a pleasure to work for.
Every single one of my clients who have been tattooed by me at other tattoo shops in Las Vegas all agree that the atmosphere at Bluenote Tattoo is way better. The atmosphere is not only important for the tattoo artist to do the best tattoo possible, but it also helps the client relax and creates the best tattoo experience for them.
I am grateful for all of my tattoo clientele who have followed me over to Bluenote Tattoo, as well as the new clients I have had the privilege to tattoo. You all are the best, and make it feel great to be a tattoo artist in Las Vegas. I couldn't do it without you!
For anybody in Las Vegas or just visiting Las Vegas that would like to set up a tattoo appointment, you can contact me here. My schedule is filling up fast, as I am now focusing on 100% custom tattoos, and have a lot of large scale tattoos in progress. If you are looking for the best tattoo experience, by one of the best tattoo artists in Las Vegas, at one of the best tattoo shops in Las Vegas, I promise it will be worth a short wait! Thank you again for taking the time to read this, and if you have any questions regarding a tattoo or a tattoo appointment, please click here.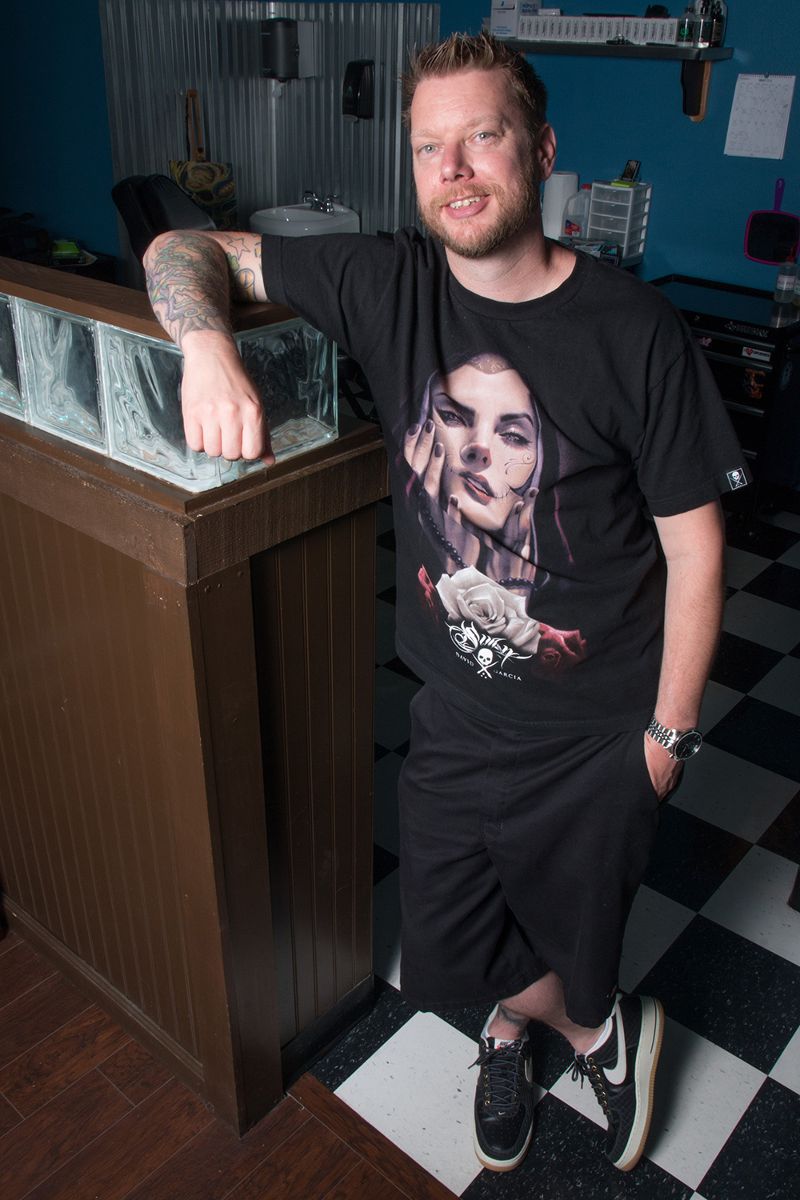 Dog Tattoos
One of the best things about being a tattoo artist in Las Vegas is the diversity of custom tattoos I get to do. Although I have a big following of local Las Vegas clients who know the best custom tattoos, I also have a lot of people who travel to Las Vegas to get tattoos from me. Both of these dog portrait tattoos were custom designed for clients who traveled to see me. For appointment info or to set up a free consultation, CLICK HERE.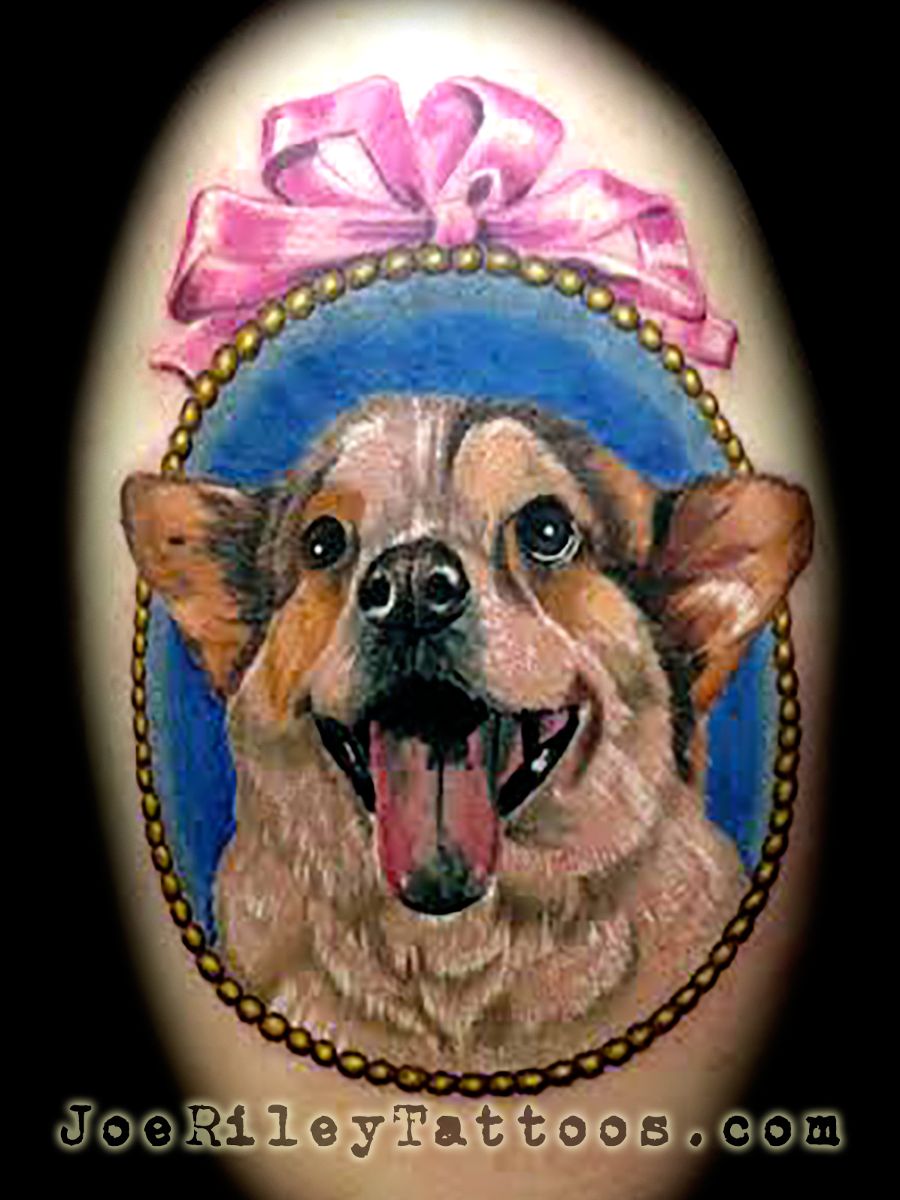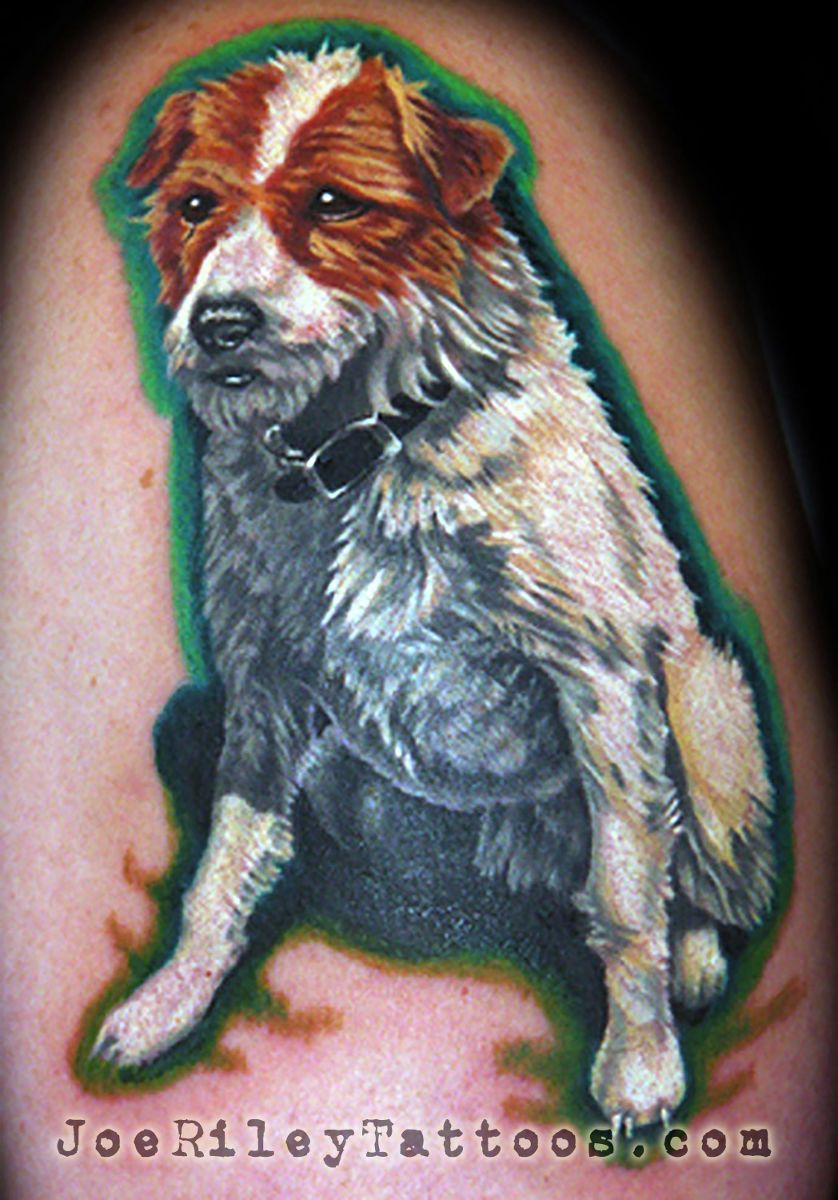 Wolf Tattoo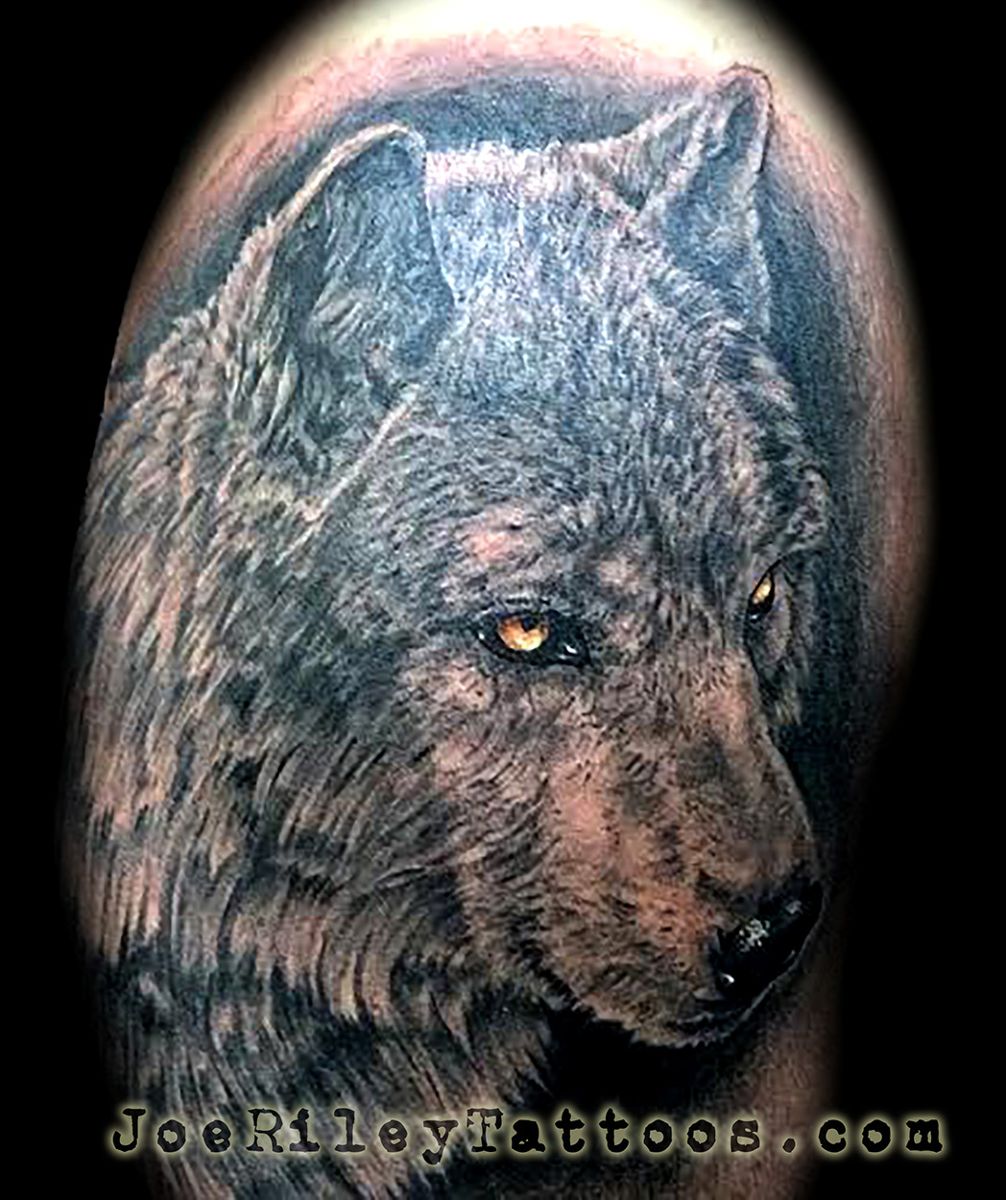 As many of your know, doing custom tattoos in Las Vegas requires me to be a very diverse tattoo artist. I enjoy doing many different styles of tattoos. I really enjoyed working on this black and grey wolf tattoo, and enjoy doing realistic animal tattoos a d portrait tattoos as well. If you live in Las Vegas or will be visiting Las Vegas you can contact me here to get more information about tattoo appointments and availability.
Skulls!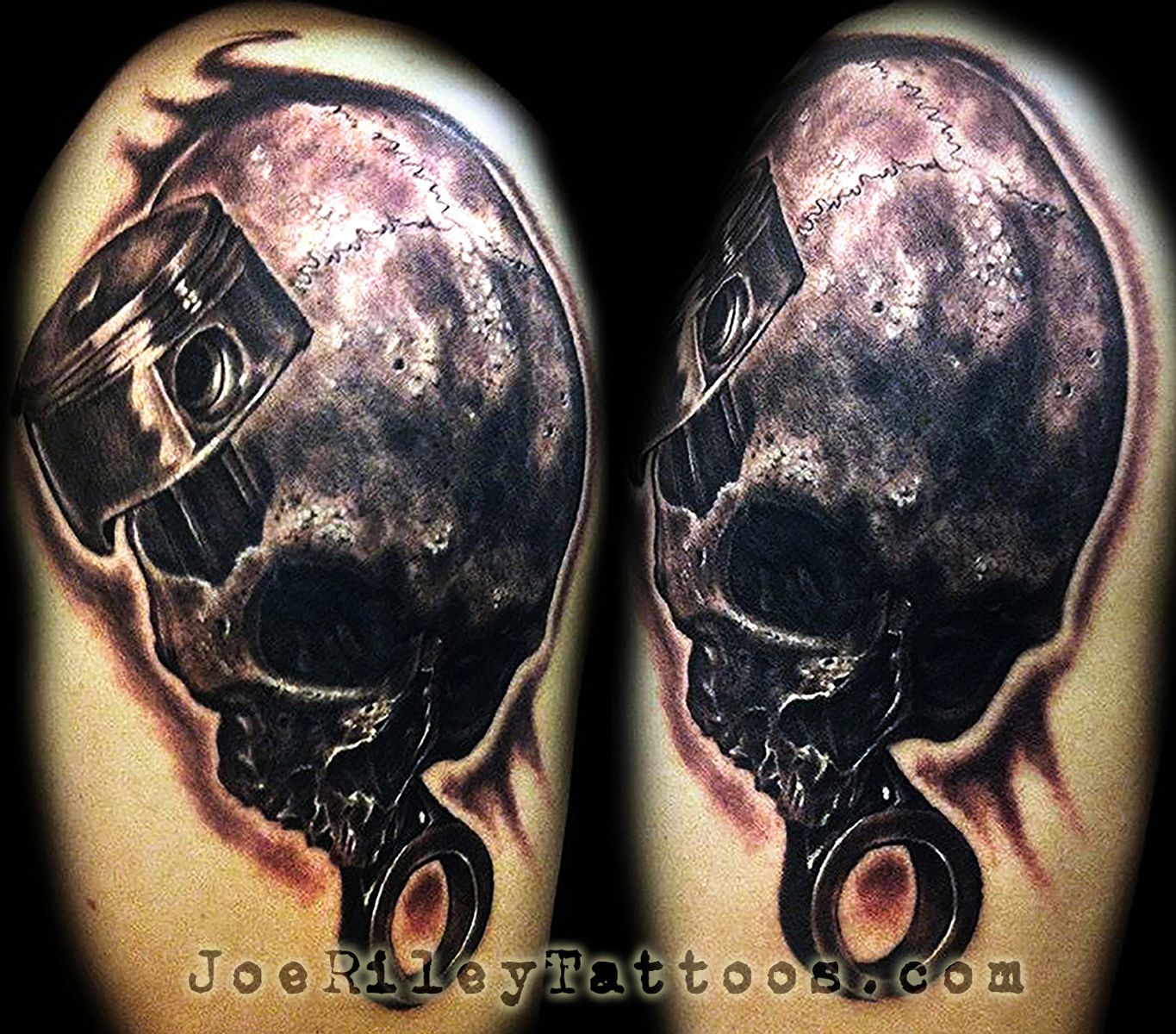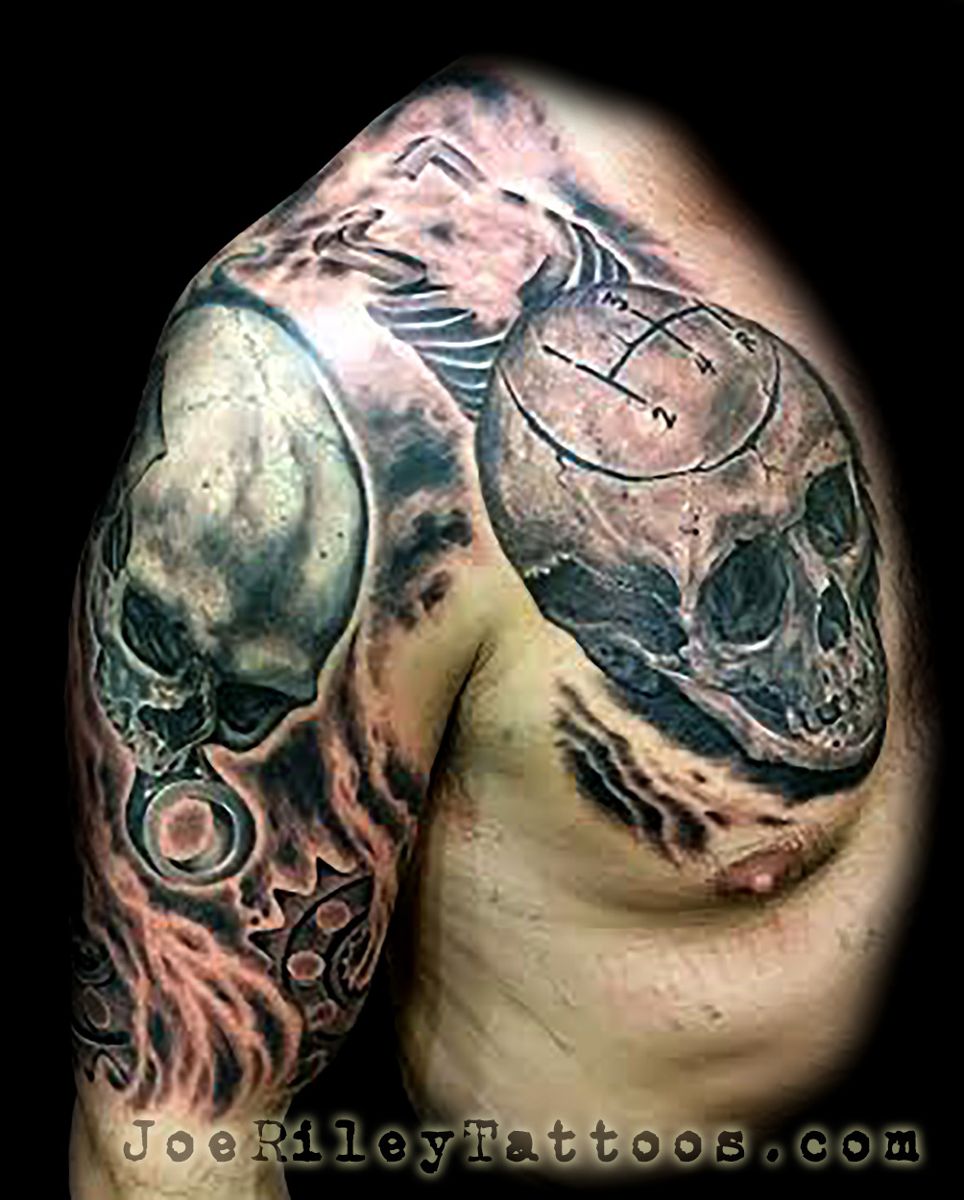 I ran across these pics of these black and grey skull tattoos from a while back. We started with the skull and piston tattoo on his arm, and a few months later he came back to add onto his chest and complete his half sleeve tattoo. We did the skull with sparkplug tattoo on his chest, and we added gears to his skull and piston tattoo on his arm. We tied the whole piece together with black and grey smoke to pull it together as one complete halfsleeve and chest tattoo. If you would like to set a tattoo appointment or have any tattoo related questions, please click here. Thanks for looking!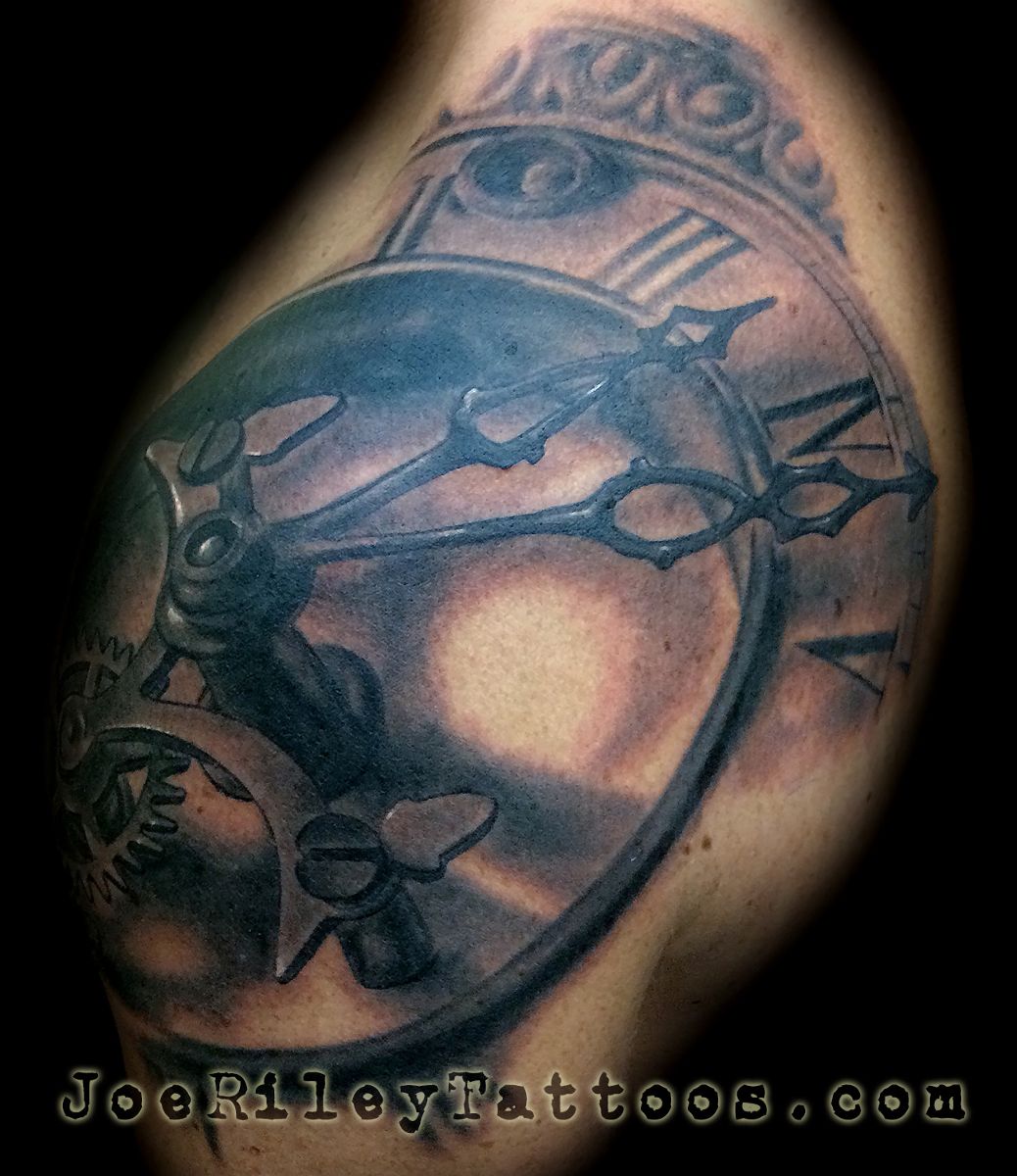 A Few New Pics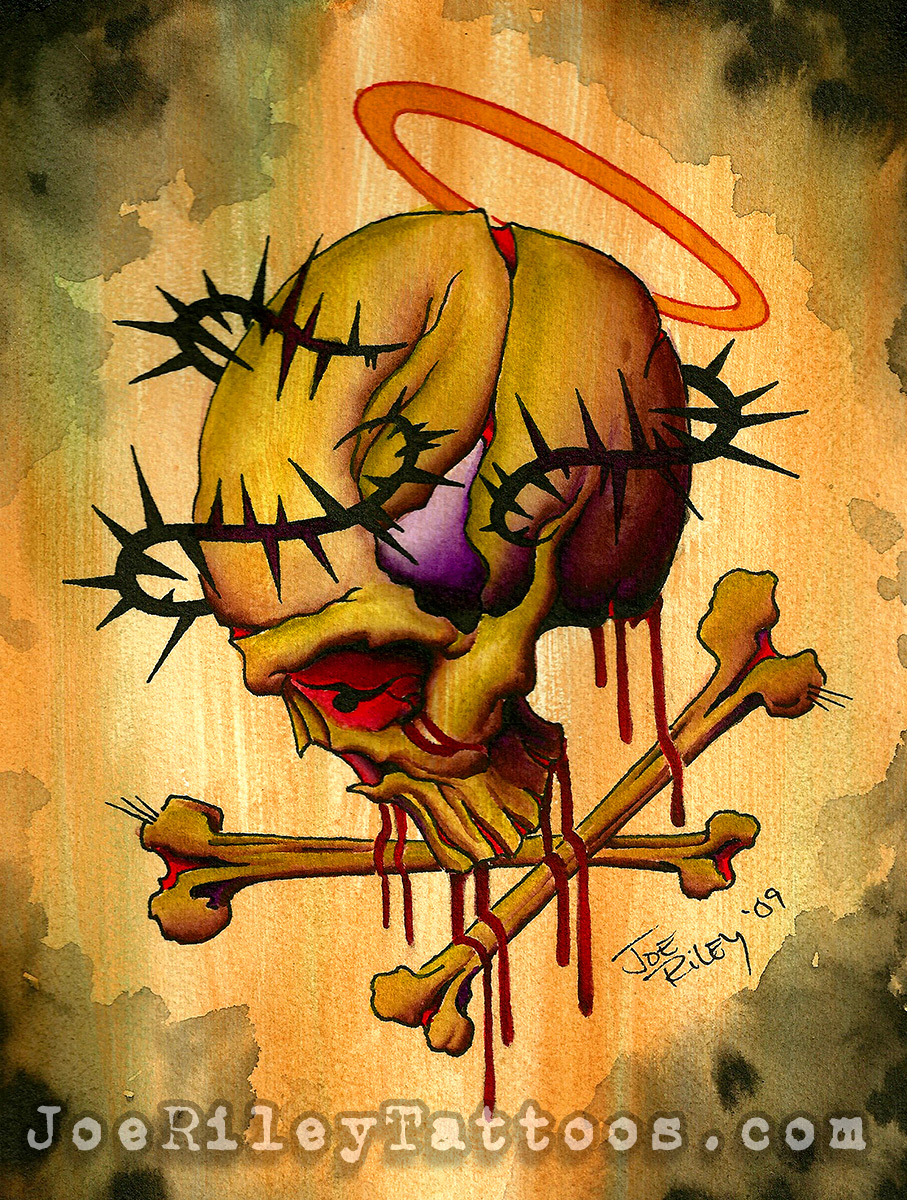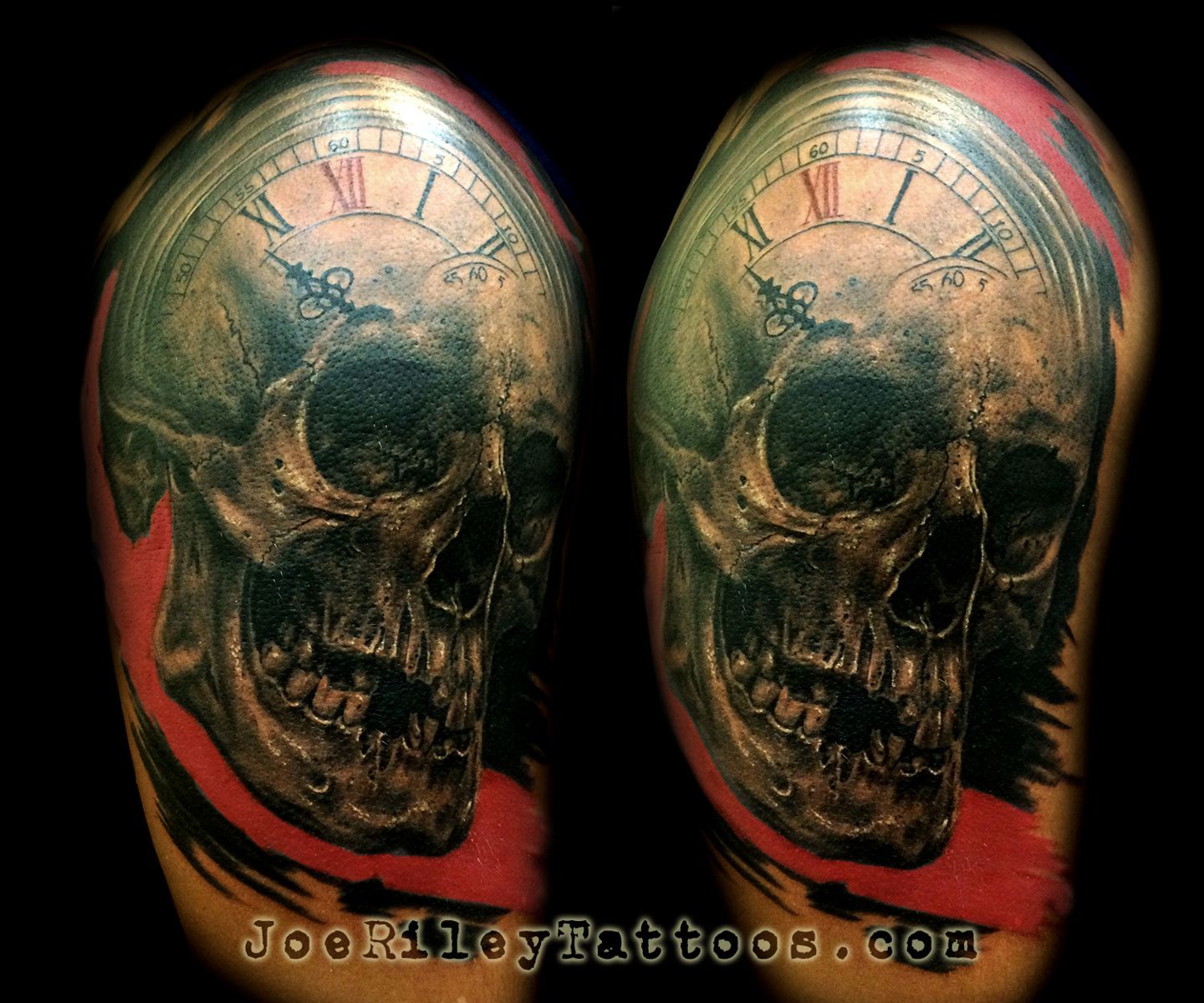 Thanks for Looking, Now Taking Tattoo Appointments in Las Vegas. Contact me for inquiries about custom tattoos, tattoo appointments, or for fine art comissions.
It's another beautiful day in Las Vegas! Here's a few new tattoos for you! If your in Las Vegas and would like to set up an appointment for a custom tattoo, I am now tattooing at Bluenote Tattoo just minutes away from the Las Vegas Strip.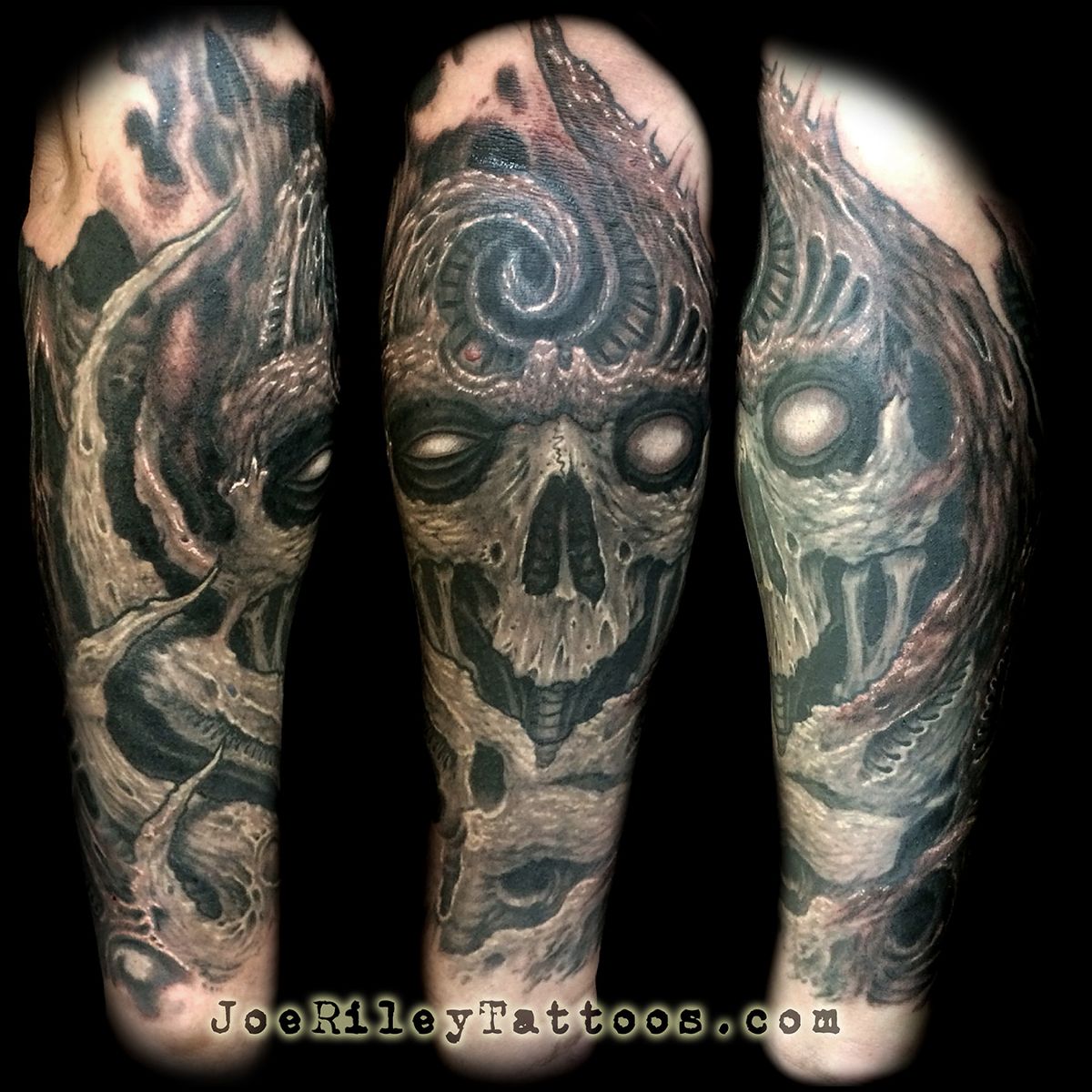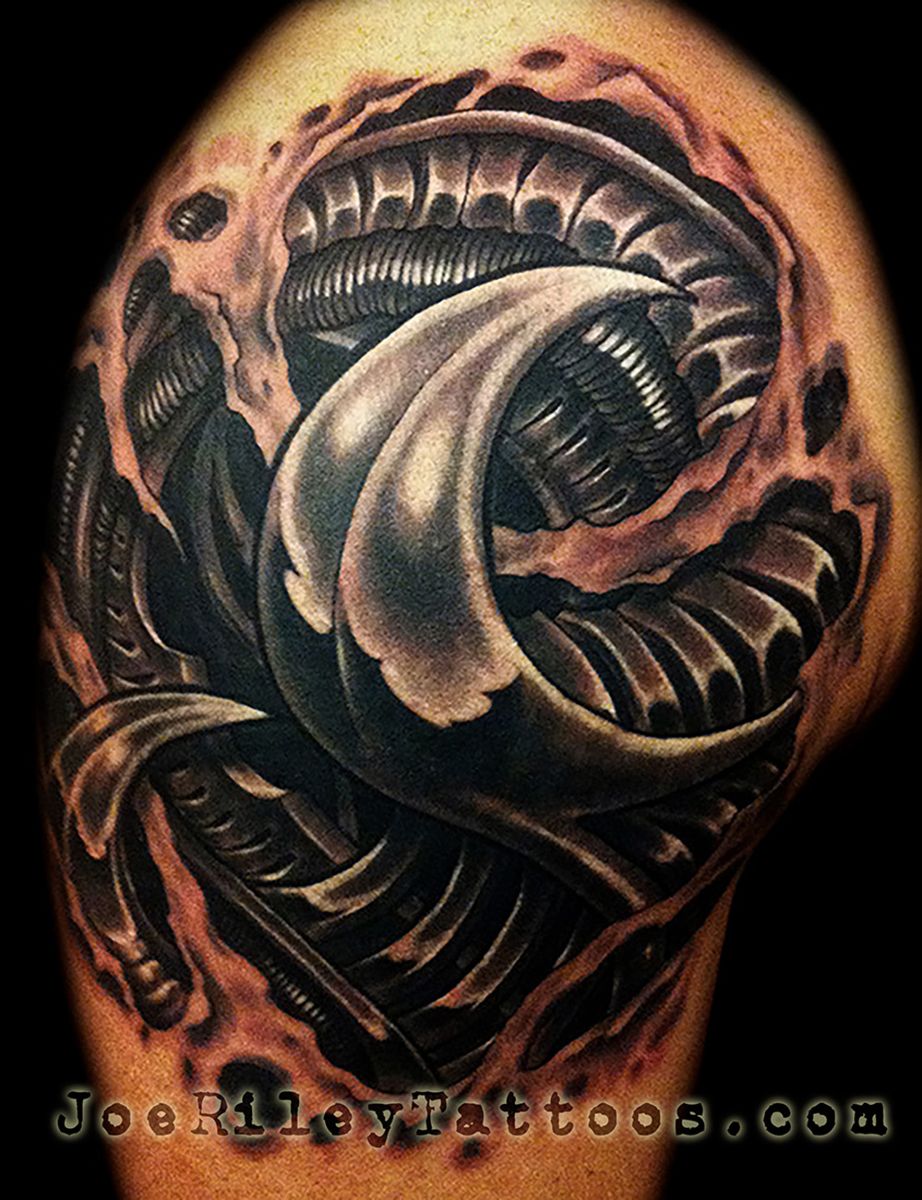 Slowly Updating some New Pics
The Las Vegas Tattoo scene has been treating me well. Making the move over to Bluenote Tattoo has been one of the best things for my tattooing. I've been doing lots of large scale custom tattoos on Las Vegas locals as well as tourists to the Las Vegas area. With Bluenote Tattoo being just minutes away from the Las Vegas strip, it has given my out of town tattoo clients easy access to find me for their tattoo needs. It has also given me the creative environment to give my clients the best tattoo experience possible, whether they live in Las Vegas or they are just visiting. I still have a few tattoo appointments available in April but the spots are filling up fast. Please feel free to contact me if you have any tattoo related questions or would like to set up an appointment, Thanks!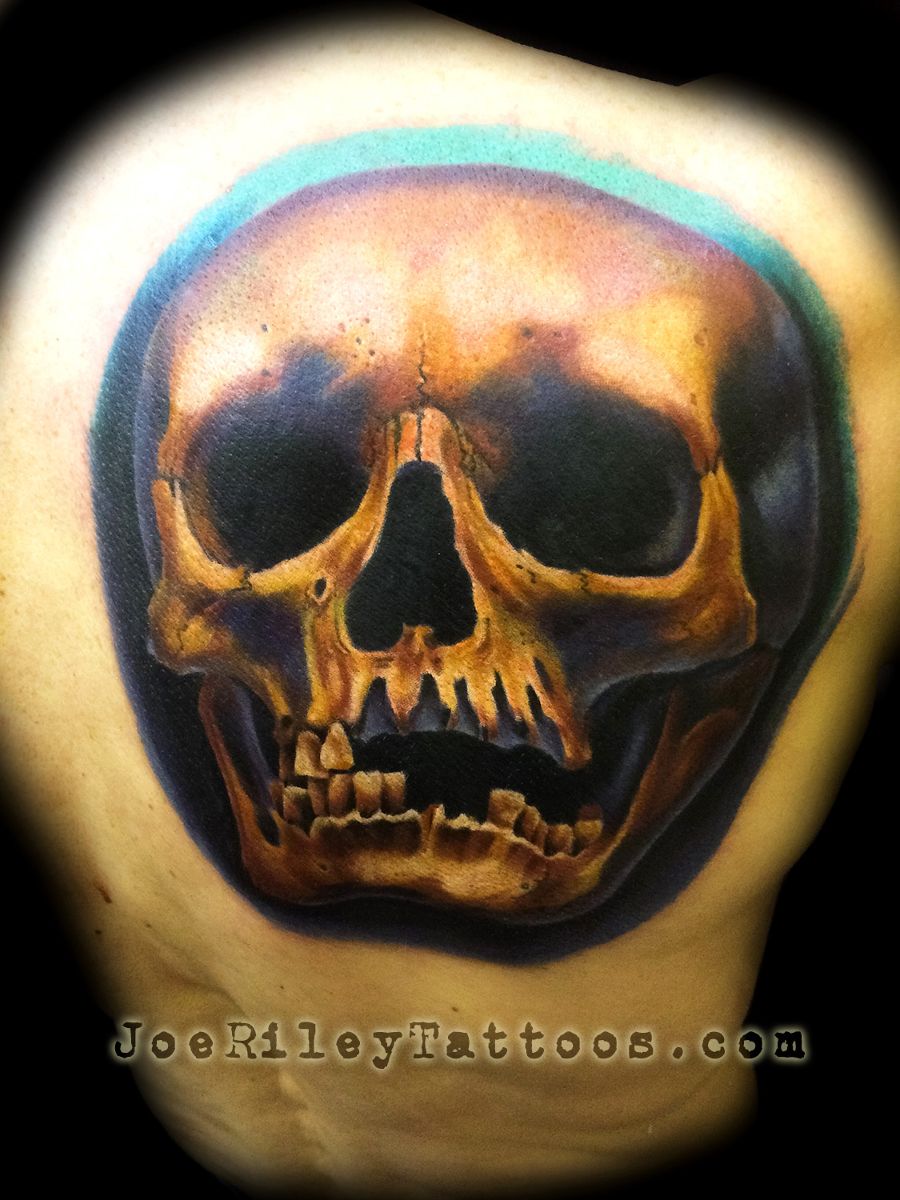 What They Don't Tell You About Tattoo Aftercare
Every tattoo shop and every tattoo artist have a little bit different opinions when it comes to tattoo aftercare. I can't say that any of them are right or wrong, but I know what aftercare works best for me and healing my tattoos. Most tattoo artists will tell you what you need to do for healing your new tattoo, but they don't tell you "why" it's important. I'm going to break down my suggested tattoo aftercare for you and explain "why" each step is important for healing your new tattoo.
I wrap freshly done tattoos with an absorbent breathable bandage as opposed to Saran wrap.
Why? Some artists use Saran wrap to bandage fresh tattoos, and I'm guilty of this in the past. Saran wrap can leak blood, ink and plasma, not only potentially making a mess, but I'm sure you wouldn't want somebody leaking there bodily fluids in your home, car or business. Also, Saran wrap doesn't allow the tattoo to breathe, and creates an excessive amount of heat on the newly tattooed skin. Bacteria breeds rapidly in warm, moist environments, so I find that using a bandage that is absorbent and allows the tattoo to breathe is the safest alternative to use on a new tattoo.
I recommend leaving the bandage on overnight.
Why? A tattoo is an open wound, and it's best to protect it from any outside elements, especially in the first day. Also, if you take off the bandage before you go to bed the first night, you will ruin your sheets as your tattoo will still be seeping plasma and excess ink. Also, 6-8 hours of sleep with your sheets rubbing on an open wound can introduce bacteria into a fresh tattoo. People with pets should be especially cautious of this.
In the morning, remove the bandage and thoroughly wash your new tattoo with a mild liquid soap.
Why? Your tattoo will have a thick slimy buildup of excess ink, blood and plasma on it from having the bandage on overnight. It is important to remove this immediately so it does not dry up and cause a thick scab to form on your new tattoo. I recommend a mild liquid hand soap because heavily fragranced body washes contain chemicals that are not good for a new tattoo, and can also contain alcohol that will not only sting, but dry out your tattoo. Liquid soap is best because it is fresh each time out of the bottle, as opposed to bar soap that sits in puddles of water and collects bacteria in between showers.
Wash your new tattoo at least 3-4 times per day
Why? Your new tattoo may leak plasma for the first 2-3 days, and it is important to keep this layer of plasma off of your tattoo so that it doesn't dry up and cause your tattoo to scab up worse than it should.
I recommend using a very light coat of fragrance free lotion on your new tattoo, such as Lubriderm or Aveeno, 3-5 times a day as needed.
Why? Lotion is water based- it absorbs into your skin as opposed to sitting on top of your skin. Many artists still recommend A+D ointment, Aquaphor or other petroleum based ointments. The problem with these petroleum products is that they sit on top of the skin as opposed to soaking into the tattoo. This can lead to your tattoo not being able to "breathe" and in turn, your body may react by pushing out excess plasma and even some ink. Also, petroleum products may clog your pores, leading to a rash like reaction, which can cause tiny red bumps throughout the newly tattooed area. It is also easy to use too much of these products and over moisturize your tattoo which can lead to color loss or premature fading. Fragrance free lotion will help you to avoid those complications.
Do not pick or scratch at your new tattoo!
Why? As your new tattoo begins to heal, it will scab or lightly flake and peel. During this process your tattoo may get itchy. All of the scabs and flakes on your new tattoo are connected to the ink underneath. If they come off before they are ready, it can pull the ink out with it, leading to a bad looking tattoo that will need to be touched up. It's also important not to wear tight clothing over your new tattoo as well so you avoid your clothing rubbing off the scabs before they are ready.
No Soaking or Swimming for at least two weeks with a new tattoo.
Why? First and most important, swimming or soaking your new tattoo can introduce bacteria into your new tattoo and lead to infection. Secondly, over moisturizing your new tattoo can cause the scabs/flakes to come off before they are ready, leading to a loss of color or premature fading.
No direct sunlight or tanning your new tattoo for at least 2 weeks.
Why? The ink takes time to settle into your skin, and the first 2 weeks are the most crucial. Any direct sunlight in the first couple of weeks can cause your new tattoo some major damage because the UV rays will break down the ink before it settles causing bad fading. After 2 weeks, I tell all of my clients to use a high quality sunblock, SPF 50 or higher, to protect your tattoo from the effects of direct sunlight.
I hope this was informative! If you have any questions or comments, please contact me here. If you know anyone that would benefit from this information, feel free to share and pass it along!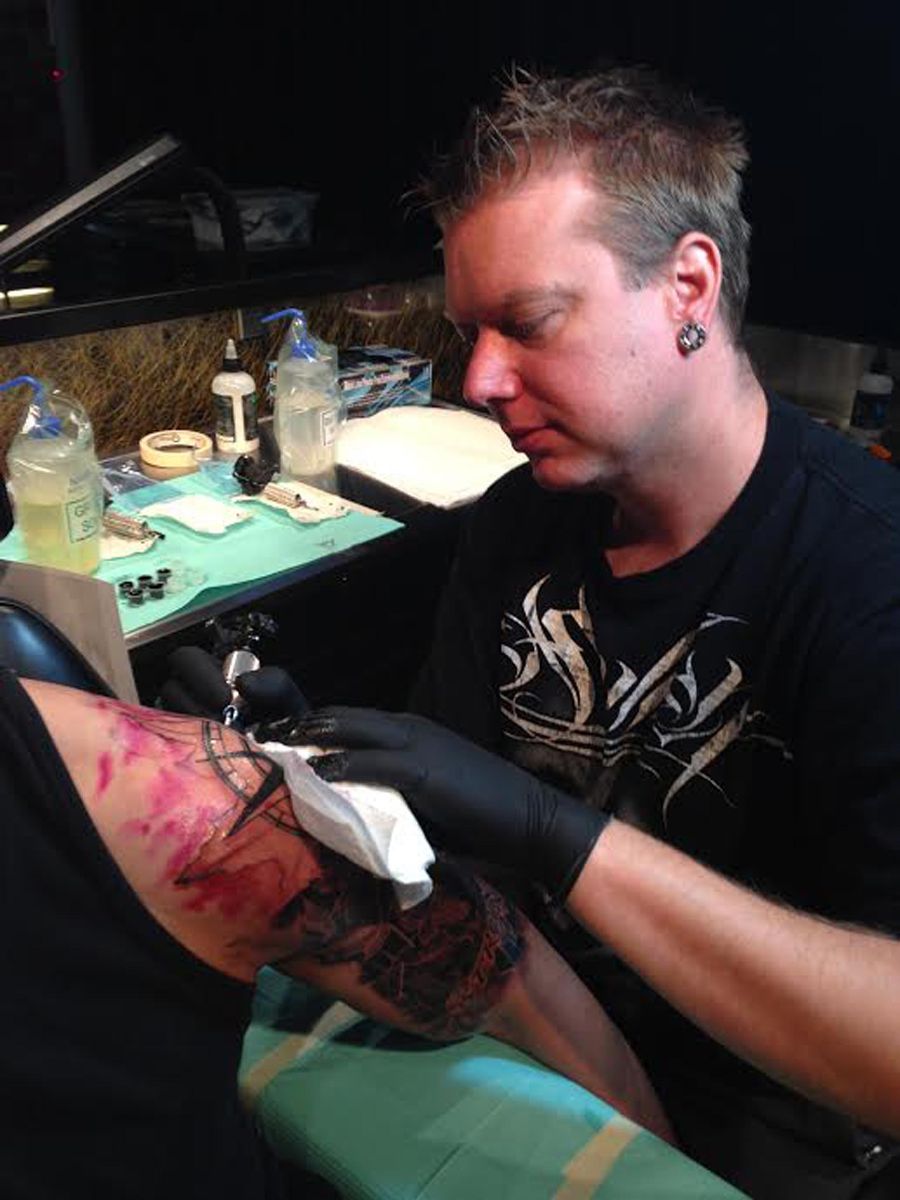 Biomechanical Tattoos
Most of you know that Biomechanical tattoos are one of my specialties. I love working on custom biomech tattoos in color and in black and grey. Biomech tattoos are not easy to do. It took years of practice and study to get my biomech tattoos to the level they are at now. Most artists that attempt biomech do a less than stellar job, however, there are many artists in the industry that I respect and look up to their biomechanical tattoo skills. There are several different styles of biomech, but when done correctly, they all have a few things in common.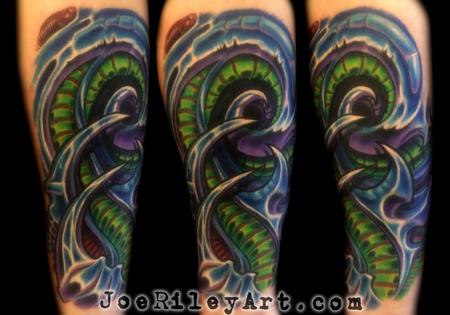 For one, biomech tattoos fit and flow with the body. This is an important aspect of not only biomech, but all styles of tattooing. The best tattoos always fit and flow with the body part they are on. That's why I always freehand draw all of my biomech tattoos directly on the skin. That way I can get them to fit each person's body correctly, the way it should be.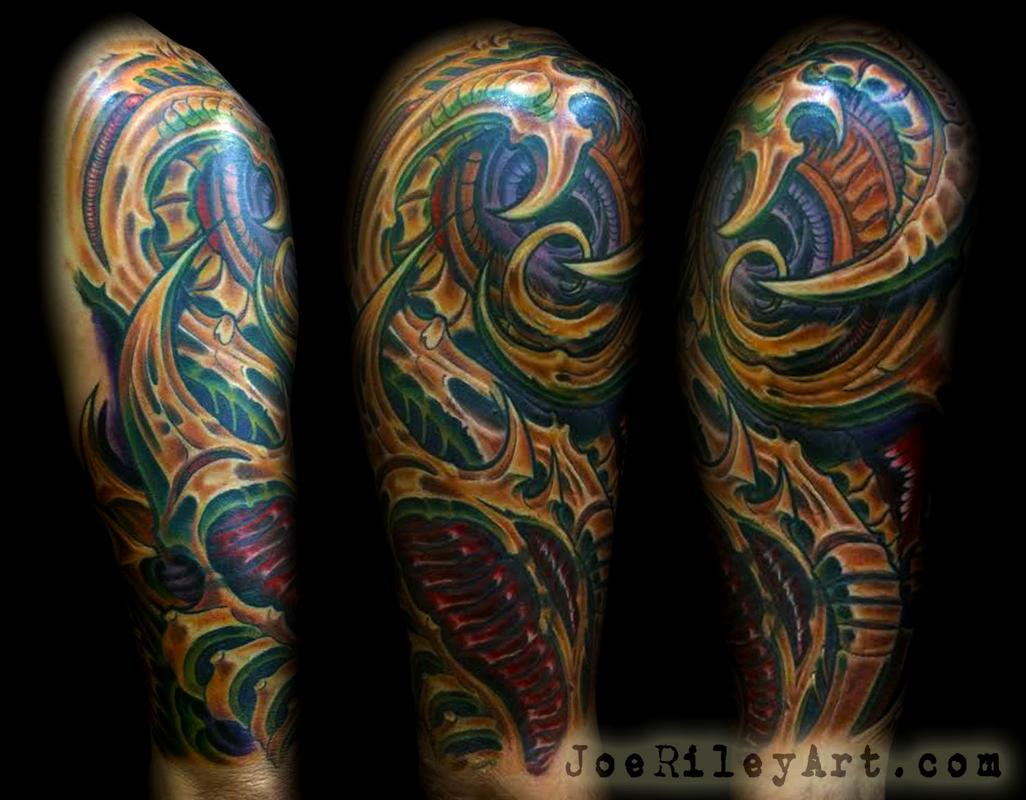 Another common trait of the best biomechanical tattoos is that they have a lot of depth to them. Biomechanical tattoos are very 3D looking and should have many layers to them, creating a lot of depth. Biomech tattoos look good by themselves, or you can mix other images in with them. I've done some feminine biomech tattoos with flowers, to biomech skulls, biomech eyeballs and teeth, space and alien themed biomechanical.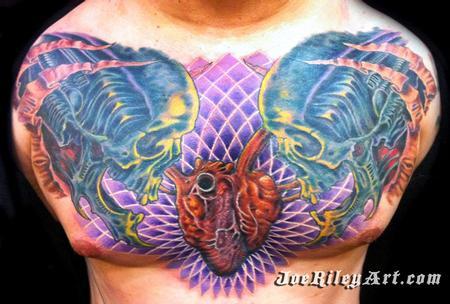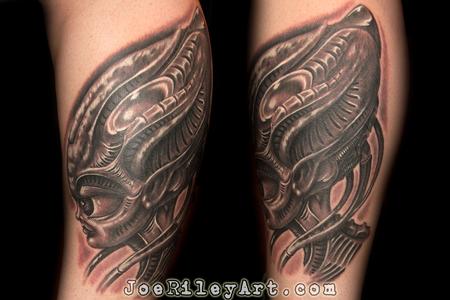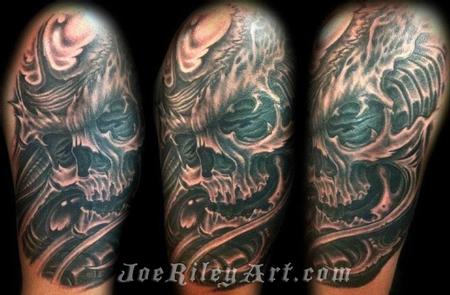 The possibilities are endless when it comes to biomech. Biomechanical tattoos, in my opinion look great when done on a larger scale, such as half sleeves, full sleeves, or backpiece tattoos. Biomech tattoos are one of the best tattoo ideas for cover ups. The repetition and textures that biomech tattoos have works miracles to cover up your old, unwanted or just plain bad tattoos.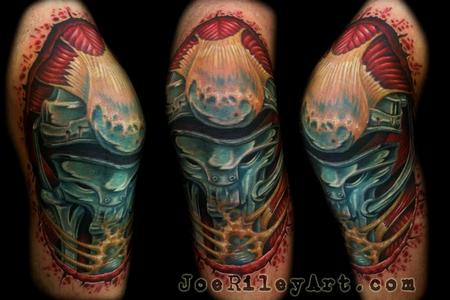 Whether you live in Las Vegas or are visiting Las Vegas, and have questions about getting a biomechanical tattoo by one of Las Vegas best biomech artists, you can contact me here. Thanks for reading, I hope to see you soon!
New Hours

Ever since I have left Club Tattoo on the Las Vegas Strip, I have been receiving a lot of questions about what tattoo shop I am at in Las Vegas and what my new hours are. I am happy to announce that I am now at Bluenote Tattoo located in Las Vegas, about 5 minutes away from the strip. The address at the shop is 2275 E. Sunset Rd., Las Vegas, NV, 89119. The phone number is (702) 471-6656. The hours of the shop are 11am-6pm, 7 days a week. I will be there for all of your tattoo needs everyday except for Thursdays and Fridays. My hours are now flexible, so I do not mind taking tattoo appointments earlier than 11 am or staying later than 6 pm., whatever works best. My main focus is on you, the customer, and to produce the best custom tattoos I possibly can. Whether you live in Las Vegas or are visiting Vegas for the first time, I am more than happy to answer all of your tattoo questions to the best of my ability. If you have any questions, comments, or would like to set up an appointment for your next tattoo, please contact me here.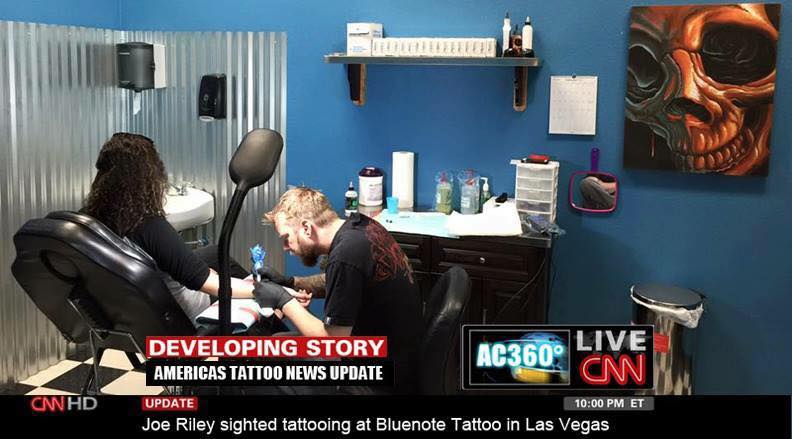 If you are looking to get a new tattoo on a day that I am not available, please check out Krystof's tattoos on the website. Krystof is the owner and tattoo artist at Bluenote Tattoo. Krystof excels in all styles of custom tattooing, including Black and Grey tattoos, color tattoos, portrait tattoos, realistic tattoos, 3D tattoos, and traditional tattoos among many others. He has been doing tattoos since 1996 and has tattooed in Las Vegas for several years before opening his own place. It was almost 2 years ago that he and his wife decided to open Bluenote Tattoo here in Las Vegas. The shop is one of a kind, and inspired by blues music and musicians. The overall feel of the shop is what attracted to me to Bluenote Tattoo. The shop provides an atmosphere that inspires creativity, and I feel that it will help me not only grow as an artist, but really push my tattoos to the next level as well.
If you have any questions, comments, or would like to set up an appointment for your next tattoo, please contact me here.
Now Tattooing At.....
After nearly 7 years of doing tattoos on the Las Vegas Strip, I have moved to a new tattoo shop. I'd like to introduce you to my new home, Bluenote Tattoo. Bluenote Tattoo is located 5 minute away from the Las Vegas Strip, and is the number one tattoo destination for both locals and tourists. It's unique atmosphere combines the blues and tattoos, and is quickly becoming famous for being the best custom tattoo shop in Las Vegas. Bluenote Tattoo is an artist owned tattoo shop, and focuses on giving the customer the best tattoo experience possible.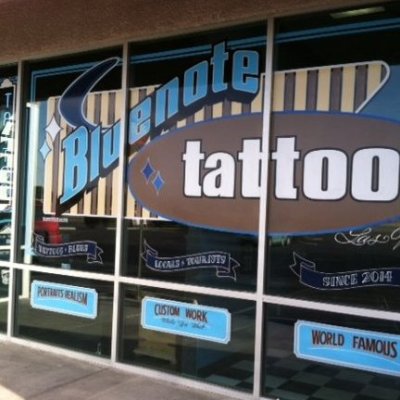 Whether you are visiting Las Vegas or you live in Las Vegas and are looking for the best tattoo artists at one of the best Las Vegas tattoo shops, Bluenote Tattoo is the place to be.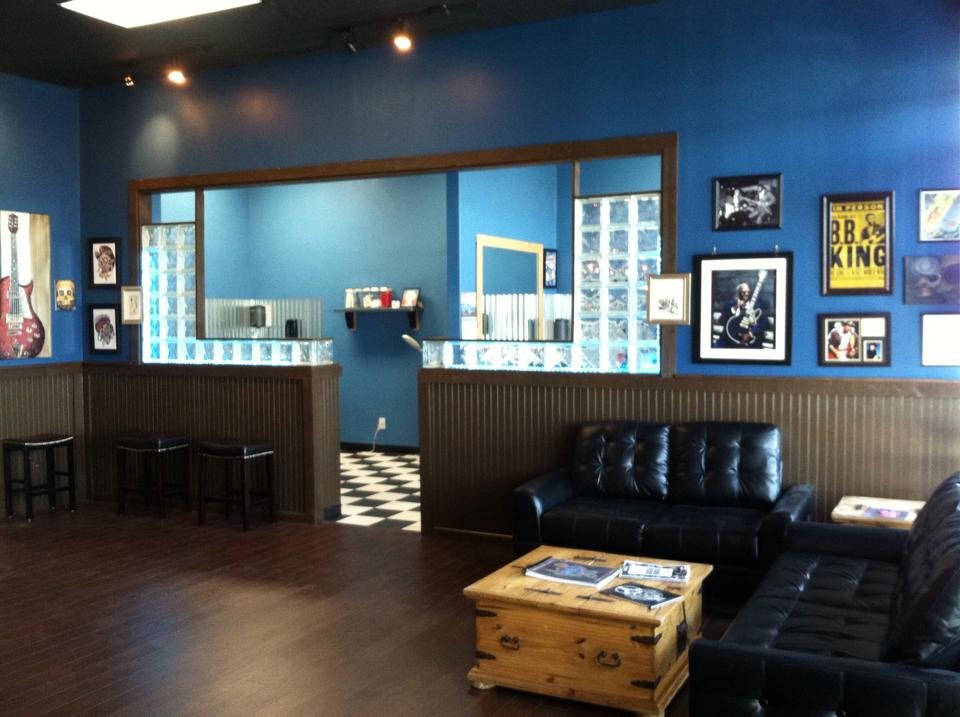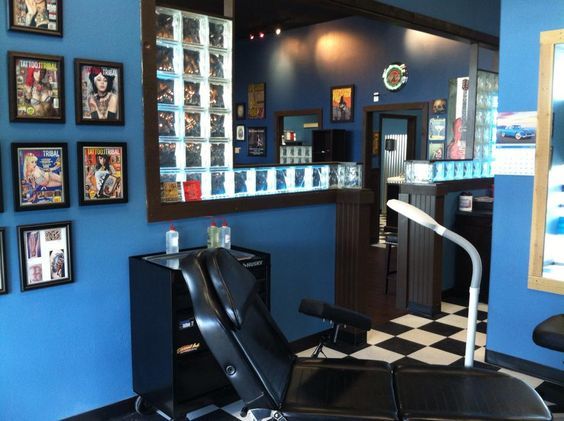 Click here to inquire about a tattoo or to get a quote
Click here to sign up for my monthly newsletter to receive special offers and exclusive discounts!
To all my tattoo clients in Las Vegas and around the world, I'd like to announce that I am no longer working at Club Tattoo. I had a great time there, worked alongside some of the best tattoo artists, did some amazing custom tattoos, and met lots of great people. After 7 years of doing tattoos on the Las Vegas strip, I found it in my best interest to move on. I will continue to tattoo in Las Vegas, and in the next few days I will be announcing what tattoo shop in Las Vegas you can find me at. Until then, I will be taking a few days off with the family and enjoying the beautiful weather this week in Las Vegas before I get back to doing tattoos. I feel that this is the best move for not only me, but also my family, and it will let me focus on doing the best custom tattoos possible. If you live in Las Vegas or will be visiting, stay tuned for information on what tattoo shop you can find me at. Thanks, and if you have any questions, please click here.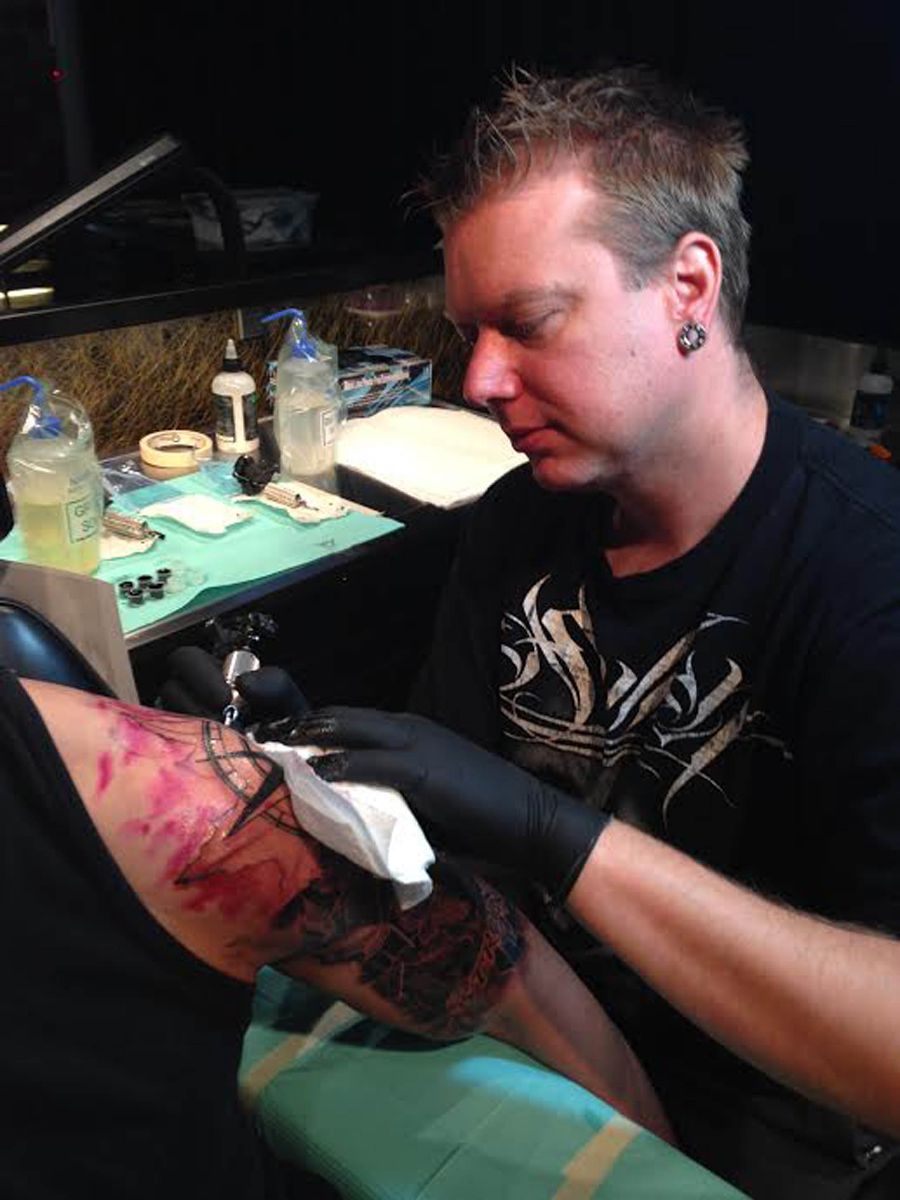 The Best Time To Book Your Las Vegas Tattoo Appointment is NOW!!!
As you may know, choosing to get a new tattoo can be a big decision to make, especially since a tattoo will last a lifetime. The style and the design are important things to keep in mind, as well as choosing the best tattoo artist who is capable of working with your preferred tattoo design and style. If you are living in, or visiting Las Vegas this spring, I have tattoo appointments available as soon as February, and continuing into March and April.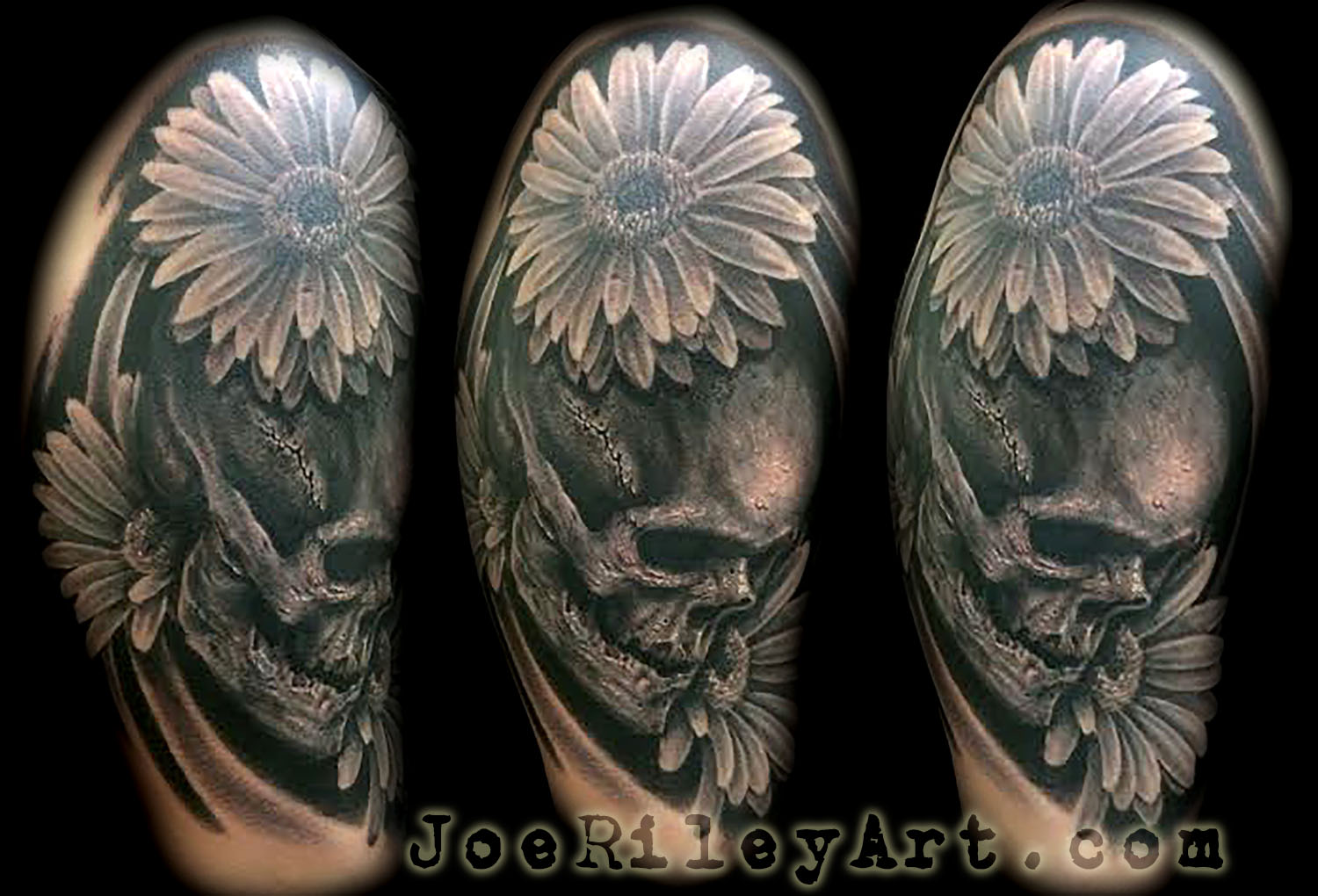 Getting a tattoo in Las Vegas can be the best way to commemorate your trip, whether you're here for business or pleasure. Although my main focus is on designing custom tattoos, I also take walk ins and do smaller tattoo designs as well. I enjoy working in many different styles including portrait tattoos, black and grey tattoos, realistic tattoos, biomechanical tattoos, Asian tattoos, animal portrait tattoos, and skull tattoos among many others.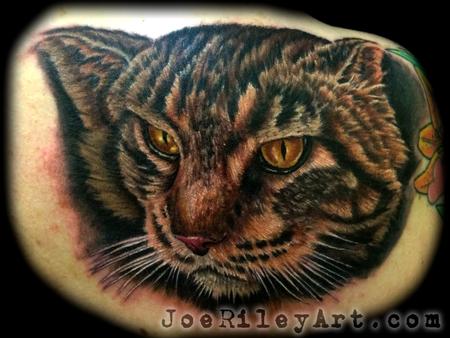 When it comes to tattoos, price can be a factor. Remember, you get what you pay for. If you are looking for the best quality tattoo from an experienced tattoo artist, in the comfort of one of the best tattoo shops Las Vegas has to offer, it may cost you a little more than from a rookie scratcher working from his kitchen. A tattoo is a lifetime investment. I have been doing tattoos professionally for 18 years, and have been tattooing in Las Vegas for nearly 7 years now. One of my main focuses is making sure that your new tattoo will have the best fit and flow properly with the shape of your body, and that your tattoo will stand the test of time and still look good for years to come.
Of all the bad decisions you can make in Las Vegas, don't let your tattoo be one of them! Take your Las Vegas memory home with you, by getting a new custom tattoo. You can book your tattoo by clicking here, and remember to enjoy your trip to Las Vegas to the fullest!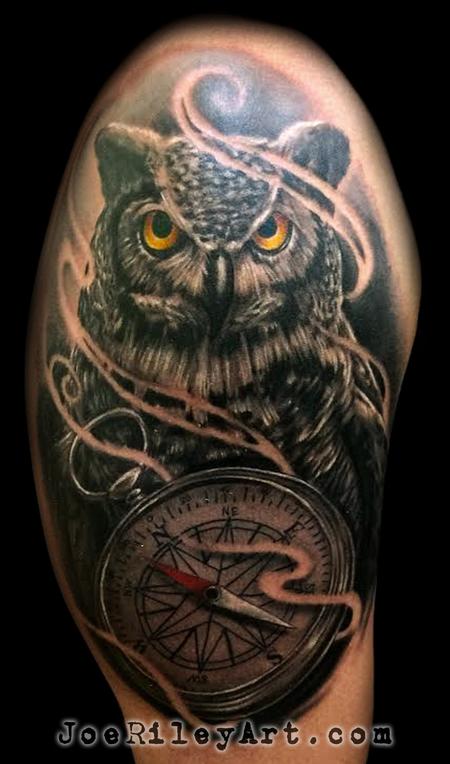 A Few New Pics
I've uploaded a few new pics to my website, I hope you enjoy! For appointment info you can click here, thanks!!!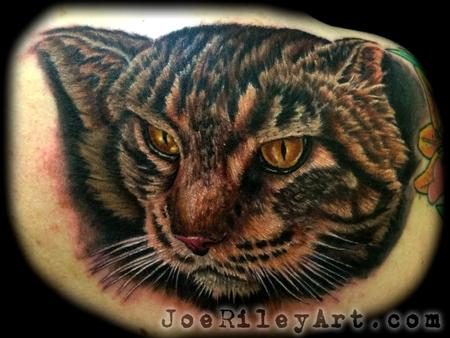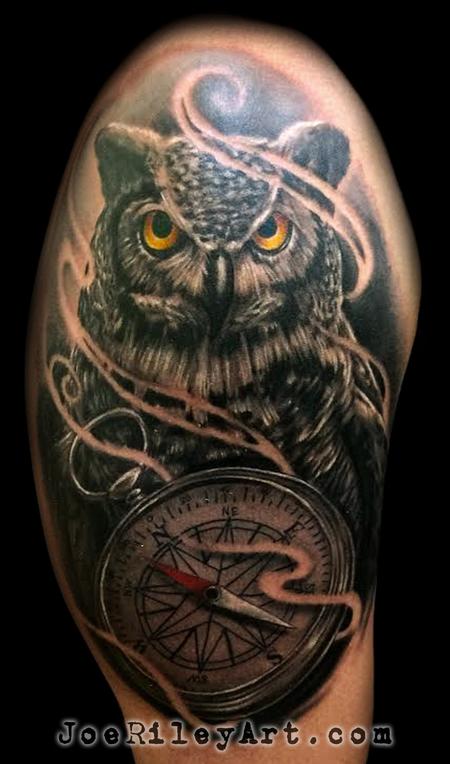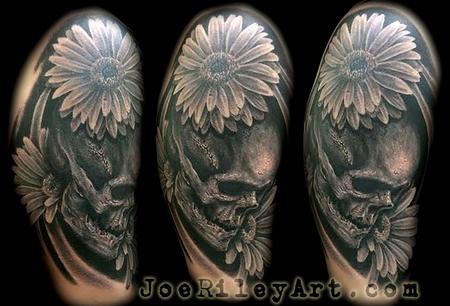 Article in Tattoo'd Lifestyle Magazine
Hi everybody, i just wanted to share this article in Tattoo'd Lifestyle Magazine on me. I hope you enjoy. You can also follow me on Facebook by clicking here and you can follow me on Instagram, @joeriley. I am also taking appointments at Club Tattoo in Las Vegas. For appointment info and price quotes you can email me at tattoosbyjoeriley@gmail.com or click here.
EASTER SALE!!!
I am having an Easter Sale on all of my original paintings. Go to the Merch section on my site. Enter the code EASTER15 to recieve a discount of 25% off of all original paintings. This sale will be going on from now until next Sunday. Don't miss your chance to own an original painting at a 25% discount. All paintings come framed and are ready to hang. You can email me if you have any questions. Thanks, and Happy Easter!
Booking Info
Hi, I'd like to start by thanking all of my clients, past, previous, and future. If it wasn't for all of you I would not be where I am today, so Thank You! February is filling up really fast, I still have a few spots open if you are interested, but I am now booking appointments for March and April. If you will be in the Las Vegas area and would like a kick ass custom tattoo, please feel free to contact me here and we can discuss your ideas!
Black Friday Sale
Hi everybody, I just wanted to let you know that we are still working out the bugs on my tattoo gallery and art gallery. In the meantime, I am having a Black Friday Sale on all of my Original Oil Paintings available at my Big Cartel Store. All Original Paintings will be 30% off from Friday the 28th through Sunday the 30th. Enter Promo Code "BLACK" to recieve your 30% discount on my original artwork. Thanks for looking, and I will have more updates coming soon!
JoeRileyArt.com is LIVE!
Joe Riley now has a TattooNOW basic website that has the key features we pride our TattooNOW websites on. So go and check out his portfolio - it will be updated coming soon - and contact Joe if you would like to get tattooed by him. However, keep in mind we are still doing some bug testing so if you run into so errors they will be fixed very soon.